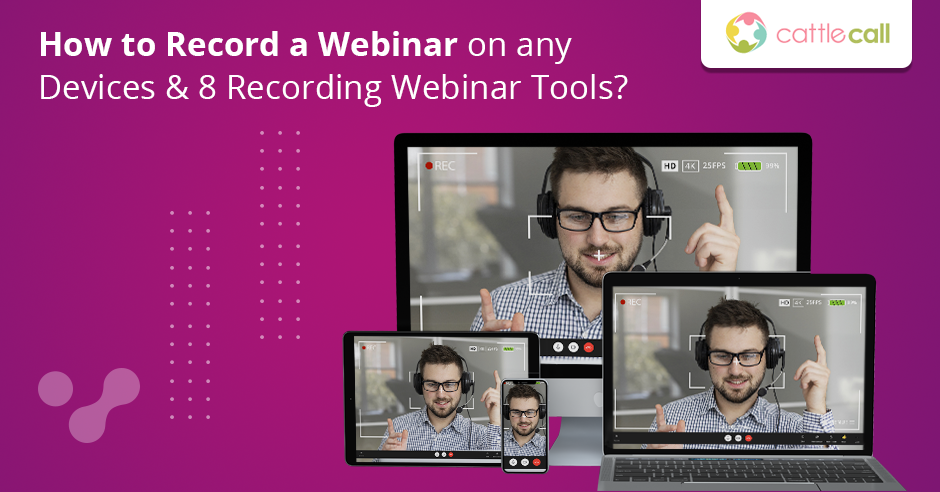 How to Record a Webinar on any Devices & 8 Recording Webinar Tools?
2 years ago
By Jeksani Mounika
If you weren't familiar with webinar tools before the pandemic, we bet you've learnt all about them now.
With the COVID-19 pandemic forcing people to work from home, web conferences and webinar tools have gained a sudden popularity. With the world on lockdown, even family time is now restricted to web conferencing and video calls.
But, if you're still new to the concept of online conferencing, you might be wondering 'What is a Webinar?' In this blog, we'll answer that for you.
We'll also take you through how you can create and record a webinar and the different tools you can use for recording the meetings.
Let's dive right in.
What is a Webinar and How does it Work?
A webinar is a live audio and visual presentation during which meeting participants can interact, view content, and submit comments or questions. Webinars are video presentations, events, training sessions, seminars, and classroom lectures that are delivered and hosted online through webinar recording software.
One of the reasons why webinars are more effective than usual phone calls is it ensures a two-way form of communication where the presenters and attendees give, share, and receive information with each other, and that too in real time.
Webinars and web conferencing tools allow hosts to share documents of all types including voice notes, presentations, videos, and similar documents with their attendees. This means, webinars have plenty of uses. However, the biggest and most important use of these software is to engage and educate the audience.
Other than that, Webinars can be used for demonstrating a product to the audience, generating leads for the business, training new and old employees, educating the audience about the business, and also building authority in the niche or industry.
How to Record a Webinar?
Recording webinars has many advantages. There's no need for participants to sit at the computer table, staring at the screen continuously for the entire webinar. Participants can revisit the content whenever they want, and the host can also use the recorded content for future reference.
In other words, recording webinars might come handy. Hence, it's important for you to know 'How to Record A Webinar?' In this blog post, we have a few suggestions for you on recording a webinar on a Mac, a PC, and on your phone.
There are different ways for recording a live webinar for later viewing. One can use a great selection of software and apps that give editing options and plenty of flexibility.
How to Record A Webinar On a Mac:
Apple Macbook users can record a webinar on their Mac through a shortcut (Shift-Command-5) on their keyword. Through this shortcut they can access their screen recording controls to choose the sections they want to capture or record.
The in-built screen recording feature allows participants to choose whether to record the entire screen or a selection portion. If you're using the MacOS, you can also use the QuickTime app for recording the screen. In short, MacOS allows users to record everything that happens on their screen within a rectangle they select.
How to Record A Webinar On a Windows PC:
Similar to MacOS, Windows also has a built-in screen recording feature in the pre-installed Xbox app. This feature appears on the Game bar.
To access this feature, you need to use the shortcut (Windows-G) on your keyboard, click yes, and start the recording.
Another way of doing this is using the shortcut 'Windows-Alt-R' to start and complete the recording. Through this all the recorded videos are saved in .mp4 format in the Capture/Videos folder.
How to Record A Webinar On a Phone:
Webinars can also be recorded on your Phone. For android, there are many apps in the play store that can be downloaded for recording everything that you play on your phone screen.
Fortunately, the iPhone has an inbuilt-feature for recording screen content or webinars. So if you have an iPhone and you wish to record the screen content, access the 'Screen Recording' button from your control center.
Follow this: Settings > Control Centre > Add Screen Recording
Once you add a screen recording shortcut to your control centre you can initiate screen recording at any time. All your videos from webinars or recorded screen content are saved in 'Photos.'
8 Tools for Recording Webinar
Cattle Call, from Troop Messenger, is a top choice for webinar recording. As one of the most interesting features of Troop Messenger, cattle calls allow users to give video access to multiple users and have face-to-face work conversation with live meeting and screen recording feature.
Primarily, it is a video conferencing integration that's available on the left panel of Troop Messenger. As a host you get to choose the office teammates for joining the conference. Some of the benefits of this integration is the facility to add unlimited participants, send a quick meeting agenda, muting or unmuting hosts or participants, and more.
2. Screenflow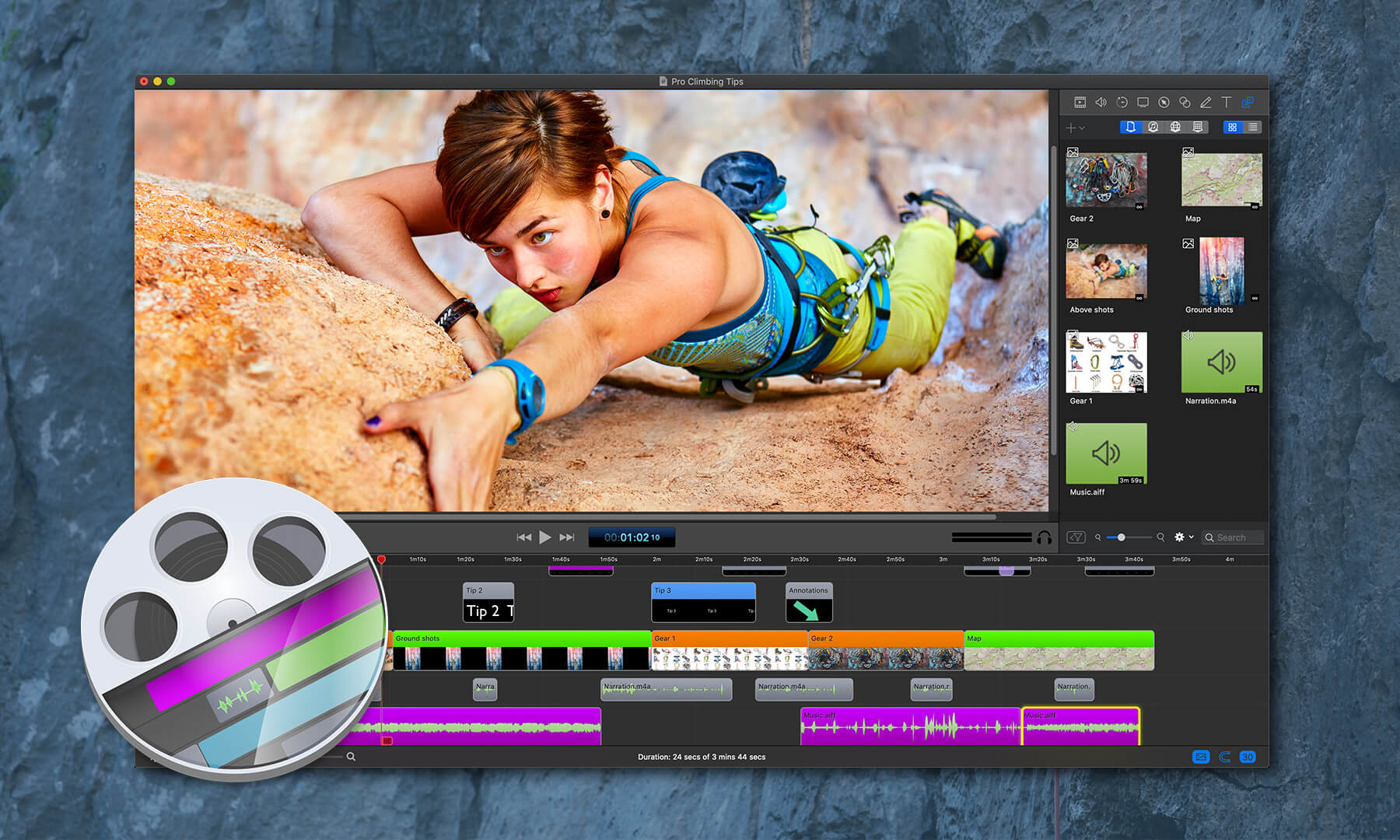 Screenflow is also a popular choice for screen recording. Millions of people are using this tool for recording webinars since it allows them to record desktop screen, webcam video, and also their iPhone or iPad screen.
However, unlike some webinar recorder software, Screenflow doesn't allow you to select a specific area or window for recording. So, once you're finished, you might need to crop the video to share only one area or portion of the screen.
Screenflow allows users to trim their videos later and share only the areas they want to share. While recording the screen you can add transitions, zoom and pan motions, text, audio, annotations, video filters, and more.
3. Camtasia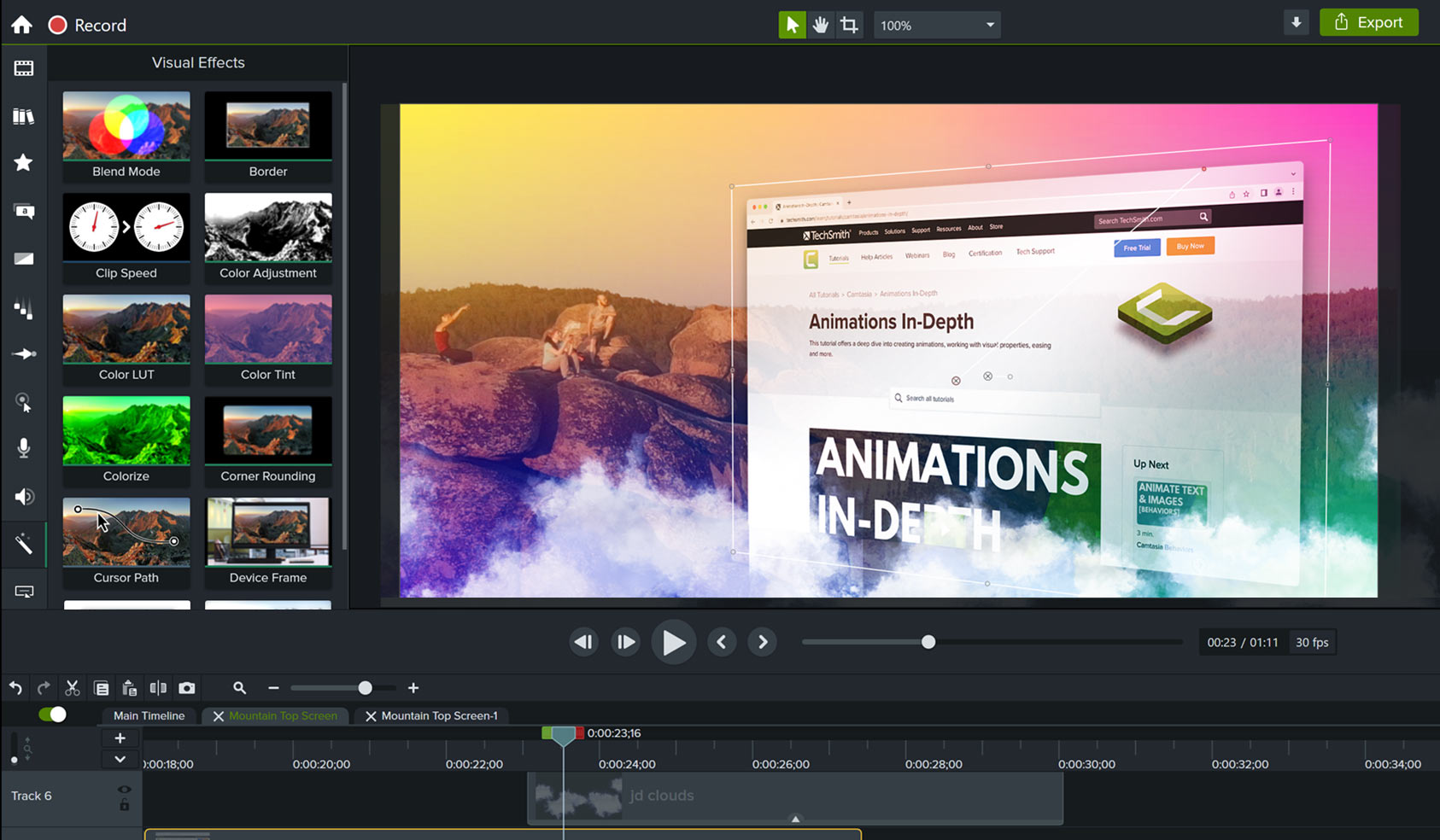 Camtasia is one of the best webinar recording software for both Mac and Windows users. It allows users to do both screen recording and editing. Hence, if you're working with a Windows desktop or Mac laptop, Camtasia screen recorder will let you carry your projects between both setups easily.
Through Camtasia, you can record the whole screen, or the specific windows or areas of the screen. You can also use Camtasia mobile app to record screen content on your iOS, Android, or Windows phone.
Once the screen content is recorded, you can save the whole content and start editing. Apart from the standard video effects, you can do things such as implementing a green screen for editing yourself in the video or add any special effects.
4. CamStudio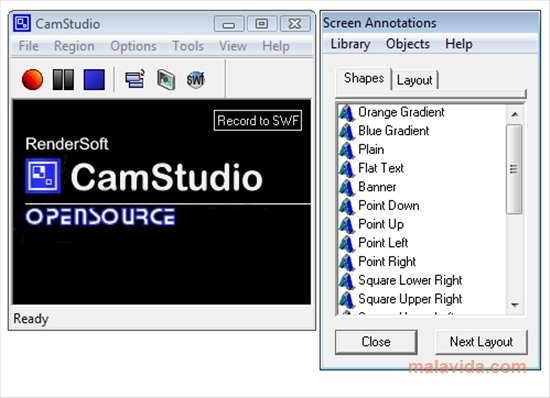 Next to Camtasia is the CamStudio that enables screen recording for Windows users. It is an easy to use app for recording webinars. This simple webinar recording software works well with recording selected portions of the screen.
The software also offers guidance in recording webinars in form or videos and tutorials so you can learn best practices. It allows users to record specific windows as well.
Once the screen content is recorded, users can add simple effects like screen annotation bubbles, and do regular editing such as trim around, transition, add overlay, zoom and pan, and insert media.
5. Screencast-o-Matic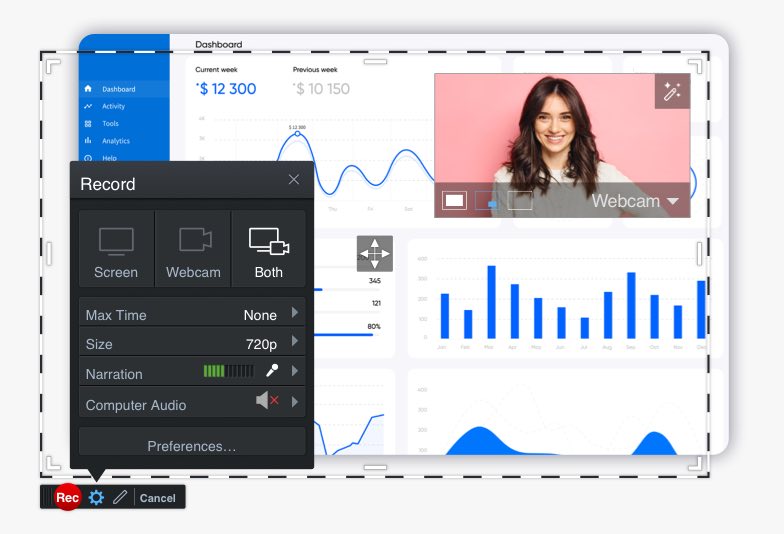 Though a little expensive, Screencast-o-matic is one of the most feature-rich live webinar recorder software. This video creation tool allows users to create and communicate through videos. The simple and intuitive apps help webinar recording done easily.
Educators and business personnel use Screencast-o-Matic for easy video communication, webinar recording, giving training and coaching, and collaborating with virtual teams. The tool also has features for enhancing video quality with special effects.
6. Movavi Screen Capture Studio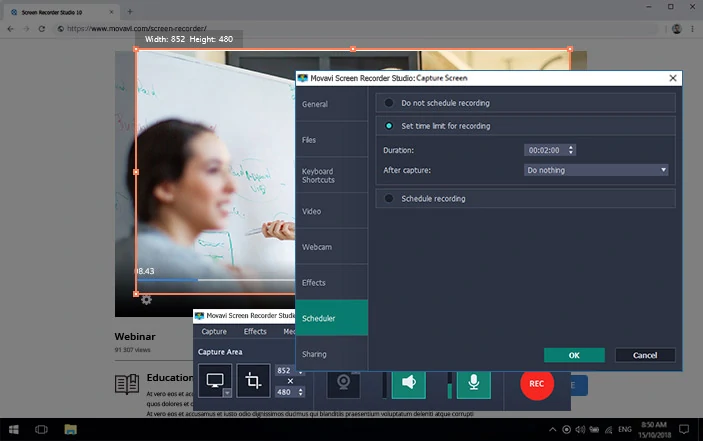 With Movavi Screen Capture Studio, you can capture and edit your videos like a professional. This screen grabber has all the features you need to make outstanding screen capture videos. You can record webinars, online video conferences, streaming audio, Skype video chats, TV series, movies, and seminars.
The software also has an in-built video editing module for creating complete clips for tutorials, video blog content, and how-tos videos. In other words, you can record the screen with sound by plugging in your microphone and recording the voice commentary.
Through this app you can also schedule recordings for capturing the screen at any time. Some more features include adjusting volume, frame rate and more similar settings. Movavi screen capture studio allows users to produce video content for your blog by cutting and trimming footage, joining video clips, and adjusting audio and video settings.
With Movavi, you can also convert the recorded clips to MP4, MOV, AVI, and other formats. The recording can also be prepared for replaying on all mobile devices and capturing full HD videos for perfect output footage.
7. Tiny Take
With Tiny Take, you can capture screen videos and images, annotate your captured images from your local drive, and record videos too. The software allows users to save and share your captures, easily share files from the local drive as the link, and directly upload the captured videos to YouTube.
Tiny Take can thus be used as a webinar recording software where users get to record videos and webcam captures and annotate them as required.
8. Zoom Meetings
Out of all the webinar tools or webinar recorder software, Zoom meetings was the clear winner during pandemic. The software recorded 30x more daily downloads after the coronavirus pandemic.
Zoom, as a video conferencing software enables users to quickly adopt meeting capabilities which allows users to start, join, and collaborate across devices. Zoom meetings syncs with calendar systems to deliver streamlined enterprise-grade videos from desktop and mobile.
It also has robust security settings that ensures disruption-free meetings. With Zoom you can record your meetings to the cloud or local server with the searchable transcripts.
Conclusion:
Make Recording Webinars a Breeze
As evident from this article, there are many great webinar recording tools to choose from. You can use either of the above eight tools for recording the webinar.
However, it is advisable to take a trial version of each and be sure to give them a try before buying a paid version.
If you wish to make webinar recording a breeze, we'd suggest you take a 30-day trial of Troop Messenger - an office chat app with all the features you need to make office chat seamless.
If your business requires you to host webinars, you can use Troop Messenger's popular 'Cattle-Call' integration for adding team participants and host meetings for training, education, or presentation purposes.